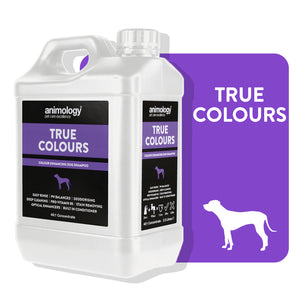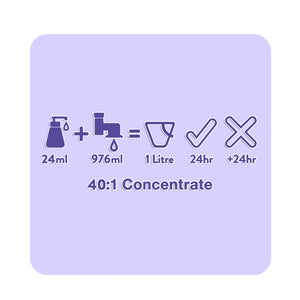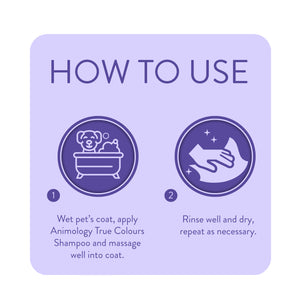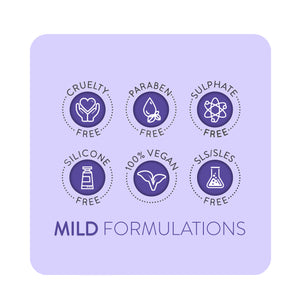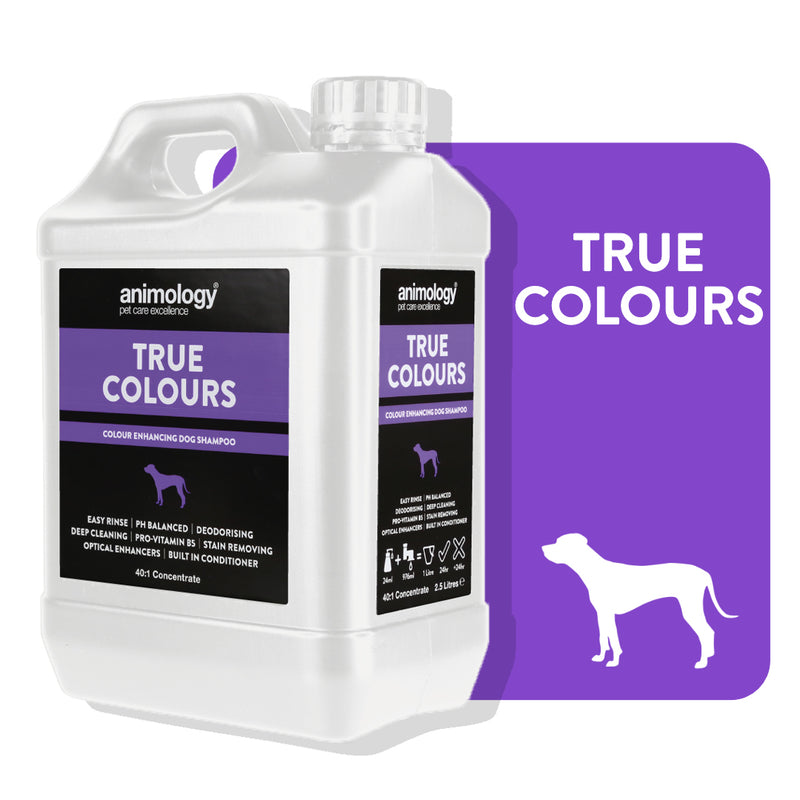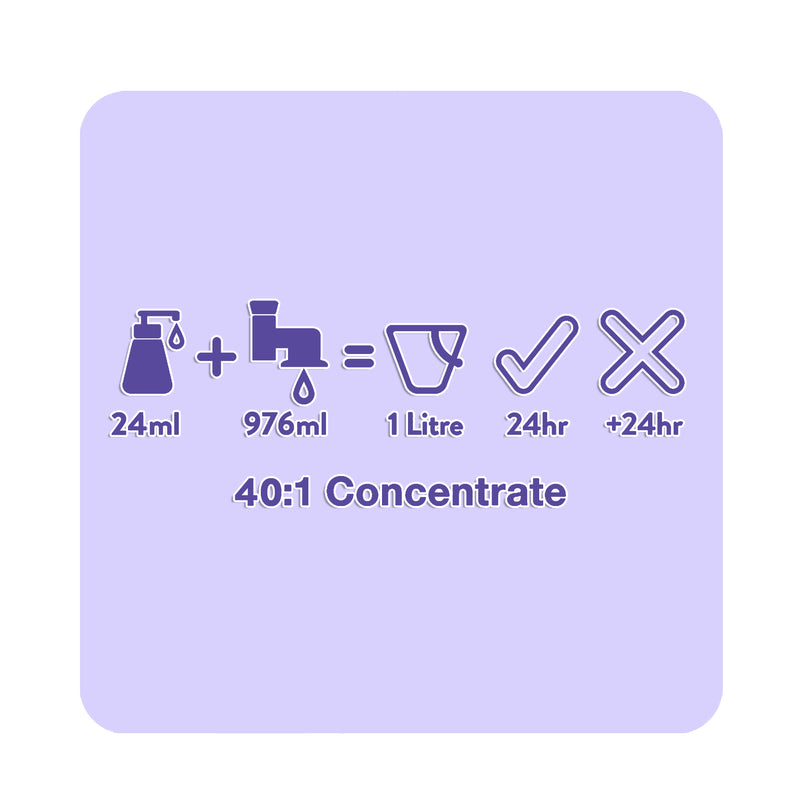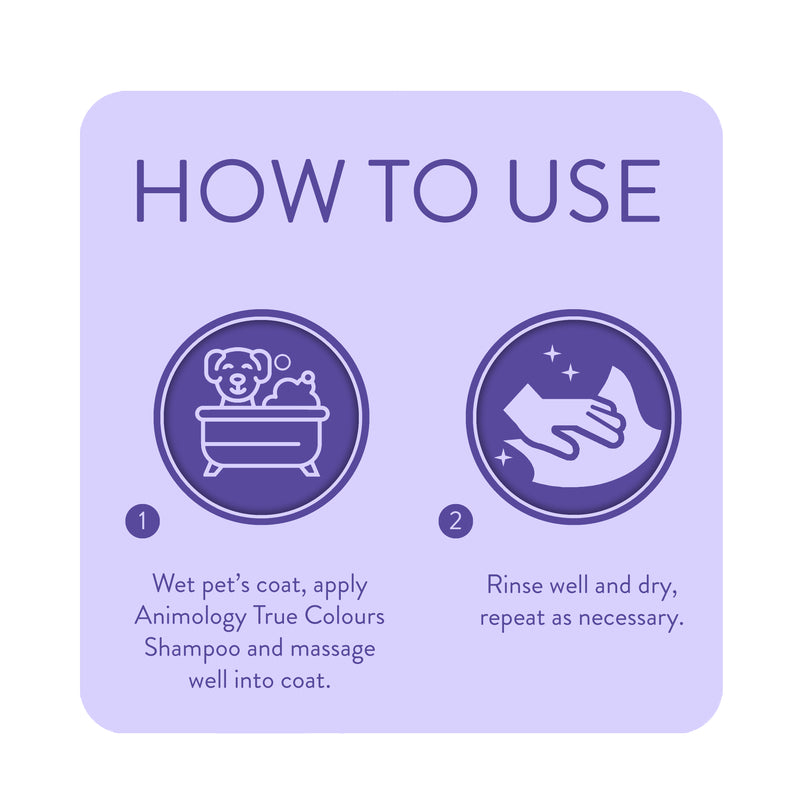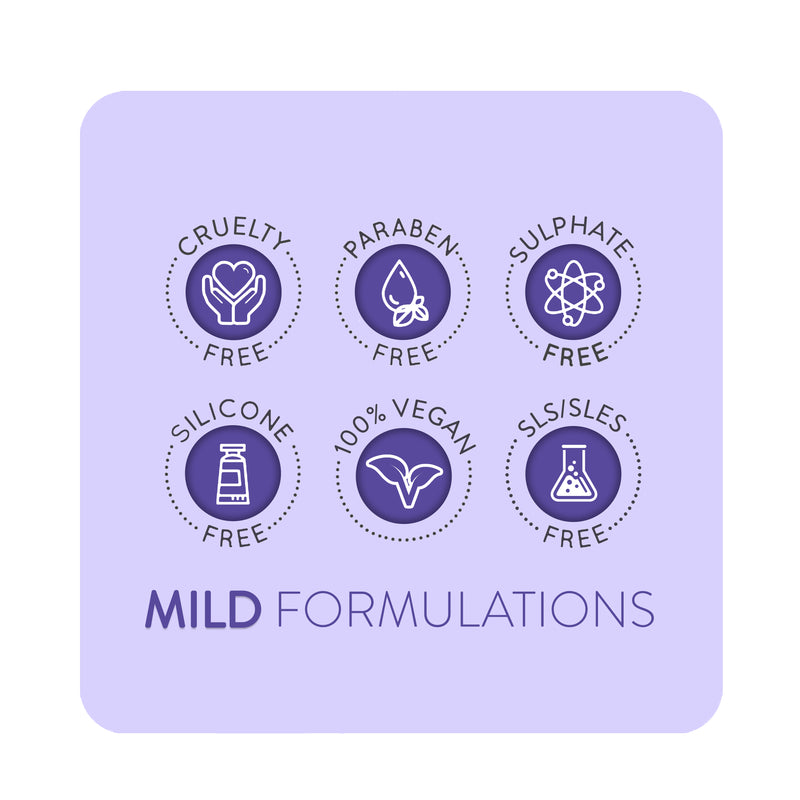 True Colours Dog Shampoo 2.5L
*NEW & IMPROVED FORMULATION*
True Colours is a specially formulated colour enhancing dog shampoo with built-in optical enhancers to help improve the radiance of your dog's coat.
Mild, deep cleaning formulation
Built in conditioner and optical enhancers for a healthy radiant coat
Infused with our 'Signature' scent for a fresh smelling coat
100% Vegan
True Colours can be used on all coat colours and skin types including sensitive skin. It is suitable for all dogs from 6 weeks old.
All of our Animology 2.5L dog shampoos are concentrated by the power of 40:1, so in total 2.5L will make 104 litres.
All Animology dog shampoos have a mild yet deep cleaning action that removes dirt and odour without stripping the coat of its essential oils. Our 'easy rinse' formulation keeps washing time to a minimum, while the built-in conditioner and Pro-Vitamin B5 help to improve the health, strength and condition of your dog's coat.
Perfect!
The True Colours Shampoo is perfect for our golden boy Arnie. He always smells amazing after weve used it! He looks really shiny & golden afterwards, so it really lives up to its name! Arnies fur can get quite greasy very quick, but True Colours fixes this problem every time! It makes him super soft & fluffy too! Its the best dog shampoo weve used. The Top Dog conditioner goes really well with it too, it locks in the shininess & colour. Weve tried a lot of different brands but Animology will always be our favourite!
Fantastic!
I have spent absolute months in the search of a shampoo that will sort out my Springers fluffy coat! I came across Animology in my local pet store and picked up their shampoo True Colours and gave it a go.well Im never going back to anything else! The True Colours shampoo left Finleys fur so soft and silky, and his fur has never gone like that unless he has been at the groomers for two hours! The shampoo is easy to rinse out and leaves him smelling amazing! I highly recommend this shampoo or any of the Animology range!
First Time User
Using Animology for the first time and experiencing the true colours shampoo was a great experience both dogs come out brighter colouring in coat, cleaner and super soft fun/ will defiantly be swapping to this brand from now on.